Research Training Group 2767: Supracolloidal Structures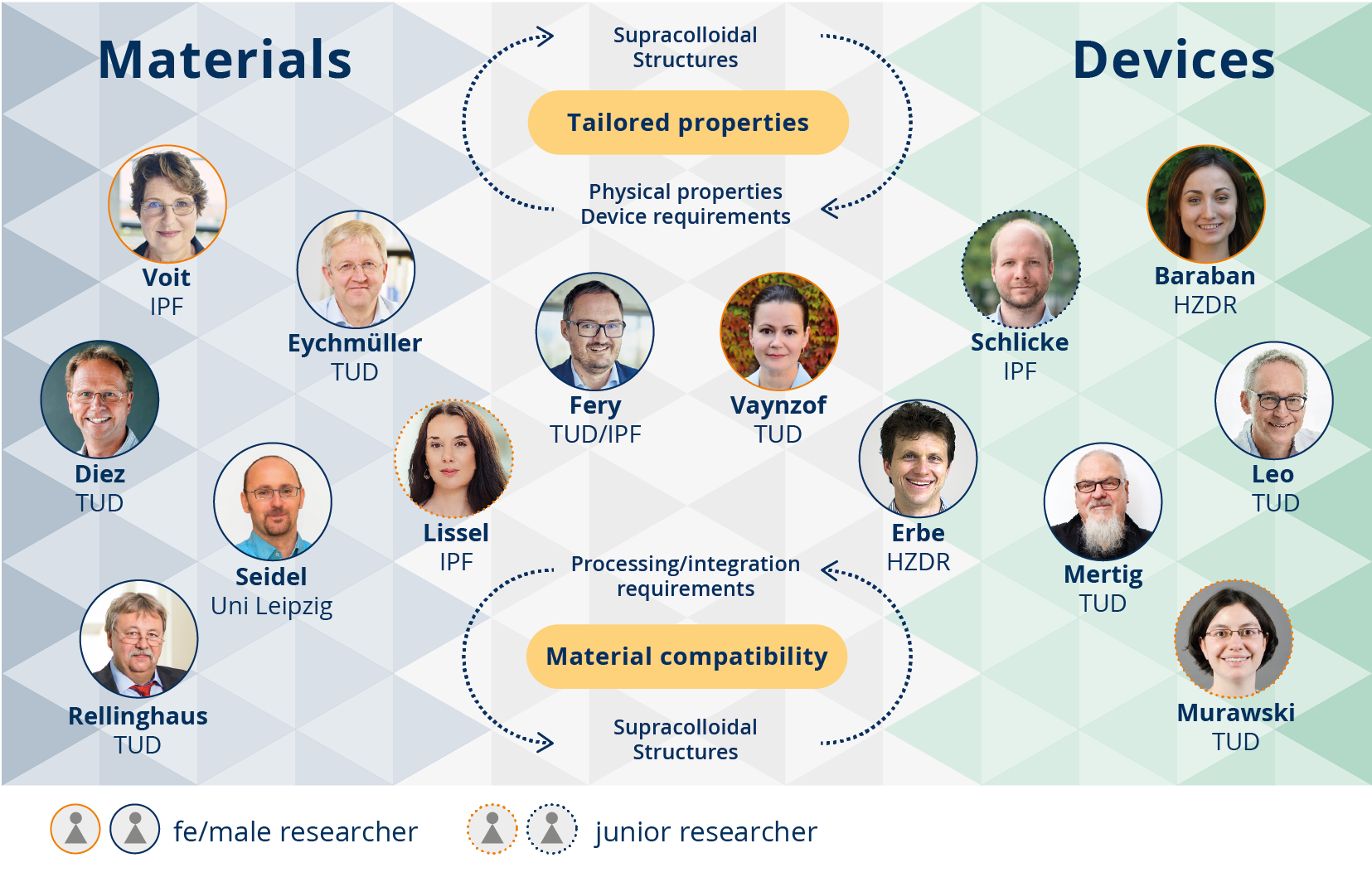 The new Research Training Group "Supracolloidal Structures: From Materials to Optical and Electronic Components" (GRK 2767) at Technische Universität Dresden aims to train a new generation of experts who will design materials made of supracolloidal structures from the drawing board to application in components. The German Research Foundation (DFG) is funding the project with a total volume of around 5 million euros.
Nanoparticles are used in many optical and electronic components nowadays. Supracolloidal structures are complex superstructures composed of different nanoparticles, similar to how atoms are linked to molecules. This results in innovative, exceptionally promising optical and electronic properties that go far beyond those of the individual building blocks. To date, these structure-property relationships of the assembled particles are not adequately understood. The technological visions of these new materials include novel solar cells, field amplification for highly sensitive spectroscopy, biosensing applications where complex detection processes are made simpler, and even on-site sample examination using smartphones.
Building a bridge from materials science to component development
"To unlock the enormous potential of such materials for applications in optoelectronics, it is vital to bridge the gap that currently exists between the research fields of nanoparticle synthesis and particle-based materials on the one hand, and applied physics and electronic engineering on the other hand. We aim to achieve this through an innovative training concept, "dual supervision", in which the doctoral students are accompanied by two supervisors, i.e. one person from basic research and one from component development," explains chairperson Prof. Andreas Fery (TU Dresden/ IPF) and adds: "Our doctoral students should not be polymaths by any means, but they should learn to speak a common language that allows them to discuss problems among themselves, look at them from different angles, and solve them by sharing different expertise."
In order to realize the technical complexity in the training, numerous intramural and extramural institutions are networked within the GRK 2767, including the cfaed and the Dresden Center for Nanoanalysis as well as the Leibniz Institute for Polymer Research Dresden, the Helmholtz Center Dresden Rossendorf and the Kurt Schwabe Institute for Measurement and Sensor Technology Meinsberg e.V.