PRÄKLIMA FASSADE : AUTARKE ELEMENTFASSADE ZUR RAUMKLIMATISIERUNG MIT PRÄDIKTIVER, SELBSTLERNENDER STEUERUNG
PRAEKLIMA Fassade: Self-sufficient Element Facade for Room Air-Conditioning with Predictive, Self-Learning Control System
Project Abstract
The motivations for the project are:
Achieve the target of "Reducing greenhouse gas emissions from energy generation by 40% by 2020 compared to 1990".
Building energy consumption accounts for 40% of total energy consumption.
The lifecycle of buildings (service life of ~50 years) need to be considered for the maximum reduction of energy costs.
High conversion costs to adapt existing buildings to new external influences.
Need to make the buildings' weather control flexible to account for climate change.
Our group is involved in the design of the controller for the facade.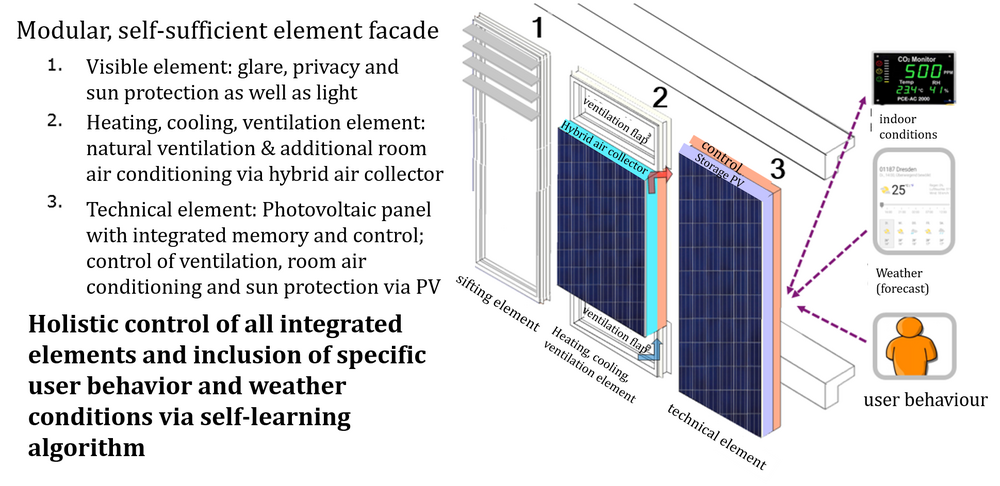 Information
Project title: AUTARKE ELEMENTFASSADE ZUR RAUMKLIMATISIERUNG MIT PRÄDIKTIVER, SELBSTLERNENDER STEUERUNG
Acronym: PRÄKLIMA FASSADE
Funding period: September 2019 - October 2021
Funding program: Zentrales Innovationsprogramm Mittelstand (ZIM) , Bundesministerium für Wirtschaft und Technologie (BMWi)
Principal Investigators:
TU Dresden Institut für Baukonstruktion
Akash Kumar, TU Dresden Institut für Technische Informatik
Die Netz-Werker AG
SOMMER Fassadensysteme – Stahlbau – Sicherheitstechnik GmbH & Co. KG
Priedemann Facade-Lab GmbH
Project Staff:
Control Element of PRAEKLIMA Fassade
Project Related Publications
Baranwal, Akhil Raj, Salim Ullah, Siva Satyendra Sahoo, and Akash Kumar. "ReLAccS: A Multi-level Approach to Accelerator Design for Reinforcement Learning on FPGA-based Systems." IEEE Transactions on Computer-Aided Design of Integrated Circuits and Systems (2020), doi: 10.1109/TCAD.2020.3028350.
Siva Satyendra Sahoo, Akhil Raj Baranwal, Salim Ullah, Akash Kumar, "MemOReL: A Memory-oriented Optimization Approach to Reinforcement Learning on FPGA-based Embedded Systems" (to appear), Proceedings of the 2021 on Great Lakes Symposium on VLSI, Association for Computing Machinery, New York, NY, USA, July 2021.